Reflective Media
Micro functions make all the difference in microfluidics
Porex Virtek® PTFE Hydrophobic vents

Microfluidic design

challenges

solved with a unique yet simple functional material
Diagnostics innovators are continually working to diagnose and detect nearer, faster and at a lower cost within a smaller device footprint. Devices like lab-on-chip or cartridge-based point-of-care (PoC) systems help to bring the world of diagnostics closer to everyone.

Yet taking lab processes onto a micro-device requires optimizations to meet or exceed lab test accuracy. Subtle interactions of microfluidic cartridge design and materials cause changes in fluid dynamics and create challenges, such as bubbling that can lead to poor optical detection.

Porex Virtek® PTFE hydrophobic vent membranes support all microfluidic device functions and designs, from a true lab-on-chip PoC setting to lab-based molecular diagnostics.
Download our Tech Brief:
Microporous PTFE Successfully Degasses Air Bubbles in Microfluidic Devices
Register for our ON-DEMAND Webinar:
Technical and Design Challenges Integrating Porous Membranes in Microfluidics
Download our Infographics
Material Selection Tool for Microfluidic Device Designers
Debubbling mechanism for microfluidics
Debubbling challenges in microfluidics are common, as bubbles can lead to major downstream issues, like inaccurate optical readings. They distort fluid flow and are difficult to remove, especially with chip materials like PDMS.
Porex Virtek® hydrophobic vents are permeable to gas and not liquid – enabling as an effective passive debubbling mechanism:
Air and fluid pressure migrate bubbles towards vent membrane
Air passes through, yet keeps sample liquid within
Microbubbles release and break on the membrane surface
Contact us for more info or to request a sample today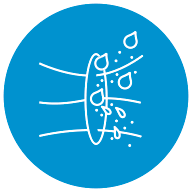 Strengthen test accuracy by minimizing contamination
Porex Virtek® pure PTFE has extremely high viral filtration efficiency (VFE) (>99.9999) and bacterial filtration efficiency (BFE) (>99.9999%) ratings to preserve samples and reagents from contamination as well as protect workers from bloodborne pathogen exposure:
A barrier against viral and bacterial particles, critical to sample integrity
Keeps liquids and other environmental contaminants out
100% pure PTFE; no leachable additives or coatings leading to sample contamination
Achieve up to

5x lower MVTR

for better moisture control
A sintered microporous liquid tight barrier with up to 5x lower moisture vapor transmission rates (MVTR) than other stretched or cast membranes1:
Minimizes sample evaporation and expulsion of PCR reagents, keeping liquids inside – critical to test sensitivity
Supports storage of lyophilized enzyme-based reagents to avoid early reconstruction
Helps minimize moisture and humidity exposure from outside of the device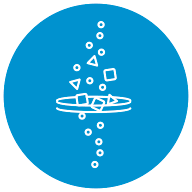 Maintain a

leak-proof

closed system design
A vent that won't allow water to be drawn through under typical vacuum and pressure conditions, with water entry pressure ranges typically between 3.9 – 14.5 psi:
Prevents leakage where user handling error may occur
Manage biological waste after disposal to minimize spread of biohazards
Surface continues to vent after contact with liquid, unlike other membrane materials
Allow for pressure equalization and fluid alignment
A hydrophobic membrane for proper venting that allows free air movement, and trapped air to escape:
Bypass air during heating and cooling cycles
Air displacement to support fluid movement
Allow fluid alignment for accurate volume metering where excess sample fluid is a concern2
1. Data on file via third party independent group. Tested via ASTM E96-16 method in 23±2 ̊C, 50±10%rH chamber conditions
2. A. Schneider, P. Pop and J. Madsen, "A novel metering component for volume management in flow-based microfluidic biochips," 2018 Symposium on Design, Test, Integration & Packaging of MEMS and MOEMS (DTIP), 2018, pp. 1-6,.
Standard venting products
Products available in standard width sized rolls and discs. Custom sizes, shapes, and other formats upon request.
Item
Thickness mm
Nominal
Typical Airflow
I/hr/cm2 at 70 mbar
Dry Filtration
Efficiency*
>99.99%
BFE** %
Nominal
VFE*** %
Nominal
Typical WEP****
mBar
MD10
0.13
107 (min 70)
0.5 µm
>99.99
†
270 (min 175)
MD10L
0.3
85 (min 48)
0.5 µm
>99.99
†
270 (min 175)
MD15
0.18
75 (min 45)
0.4 µm
>99.99
†
370 (min 265)
MD20
0.25
25 (min 16)
0.1 µm
>99.9999
>99.999
520 (min 350)
MD22
0.1
17 (min 5)
0.2 µm
>99.99
†
765 (min 500)
MD25
0.19
7 (min 2)
0.1 µm
>99.9999
†
1050 (min 750)
Oleophobic treatments available
* According to IEST RP-CC007.2 2009
** Bacterial Filtration Efficiency (BFE) data is based on a modified version of ASTM F2101
*** Viral Filtration Efficiency (VFE), † Not tested but similar results to MD20 expected.
**** WEP (Water Entry Pressure)
Properties are typical and not meant for specifications. Selected options and adhesives may affect properties. Complete testing data and information is available upon request – all exceeded the standard BFE value of 98% RoHS, WEEE, REACH Compliant (PFOA Free)
Banner Webinar Inpage
Bubble Removal from Microfluidic Devices using Porex Virtek Venting Membranes
PTFE Membrane Material
Polytetrafluoroethylene (PTFE)
For applications in need of ultra-hydrophobicity, high temperature tolerances, high chemical resistance, and excellent robustness, sintered and skived PTFE membrane technology is a perfect choice.
Made from 100% pure PTFE free of PFOA, Porex Virtek® PTFE contains no additives, supporting layers, or processing aids, which ensures that the outstanding physical properties of PTFE are utilized to their full potential.
Related Resources:
Webinar: The Science INSIDE Webinar series: Increase Microfluidic Cartridge Efficiency with Porous Polymers
Demonstration video: Porex Virtek PTFE membrane vs cast and non-woven membranes