Porous Foam Expertise for Medical & Cosmetic Applications
Open-cell porous foam is manufactured by Porex using proprietary or customized blends of raw materials through a clean polyurethane process that does not use catalysts. Various formulations can offer wide-ranging densities, porosities, and levels of softness available with application-specific additives including antimicrobials, nanomaterials, pharmaceuticals, botanicals, cosmetic ingredients, and colorants that can enhance your device's look, functionality, and performance. Porex's porous foam types include both medical-grade (ISO 10993-certified) and cosmetic foams, with pore sizes ranging from 90 microns to over 350 microns.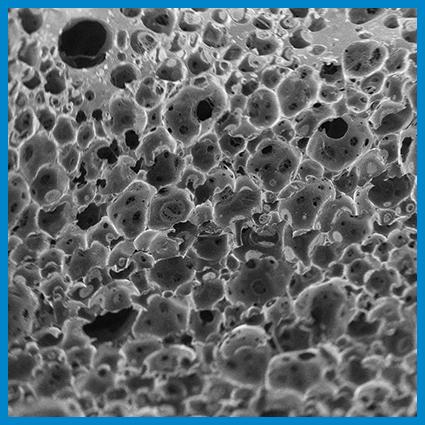 Talk with a Material Science Expert
Manufacturing process
Polyurethane foam materials can be manufactured using two different processes: a conventional "one-shot" process – like you see in furniture and car seat cushions – or as a two-step prepolymer process. During a one-shot approach, all ingredients are simultaneously mixed and poured onto a conveyor, a trough, or a mold, where it is allowed to react, expand and cure. While this process does promote high throughput, it does not lend itself to customization, as cell structures are non-uniform. For application-specific devices, Porex's two-step process, as highlighted below, allows for the creation of customizable, omnidirectional pores that can promote faster wicking, higher absorption, and excellent retention in both advanced medical and cosmetic applications.
Step 1: Isocyanate, polyol, and/or other ingredients are mixed in a certain stoichiometric ratio to make a prepolymer
Step 2: Prepolymer activated with an aqueous solution containing primarily water.
Step 3: Continuous foaming process from reaction, rising, curing, and drying.
Options for customizing porous foam
Physical properties
When designing a porous foam component, it's critical to understand these key physical material properties:
Pore size: the size of the voids in the porous media – Depending on the material selected, pore sizes, which can be small or large, will have a direct impact on absorption rate, retention capacity, dimensional expansion when wet, and the air flow of the foam.
Absorption: average mass of the test solution that is retained per 100 cm2 or per gram of sample
Fluid retention: amount of test solution retained in the sample when a 40mmHg compression load is applied over the entire sample area
Understanding typical material properties will guide you in selecting the right porous foam for your device's function and operating conditions. Below is a chart illustrating physical properties to consider when designing your end product along with a range of options most commonly requested. If you do not see an option, you are look for, please contact us to discuss your specific foam needs.
Physical Properties
Range
Absorption
14 – 18 g/g (70 – 90 g/100cm2)
Fluid Retention
8 – 11 g/g (40 -60 g/100cm2)
Aesthetic Options
Various softness levels, tacky / non tacky, different options for each side
Carrier paper
Yes or No
Dimensions
1.25 mm – 6.35mm (poured to thickness)
2mm – 30 mm (skived to thickness)
38cm – 55 cm width
Customization options
Width, thicknesses, pressure-sensitive adhesives, MVTR film lamination, die cutting, addition of customer supplied active ingredients
Material Options
Porex's porous foam, which is primarily polyether polyurethane, uses a mix of materials that are thoroughly evaluated based on product needs. These material options include:
Toluene diisocyanates (TDI)
This is the most commonly used isocyanate. It is highly volatile with an aromatic structure and has tighter environmental, safety, and health regulations.
Methylene diphenyl diisocyanates (MDI)
MDI is a more environmentally friendly option that is less volatile. It has an aromatic structure like TDI.
Hexamethylene diisocyanate (HDI)
HDI is a slightly more premium option as it produces a desirable non-yellowing foam with an aliphatic structure.
While these are the most common materials used to design porous foam components, there are many more that are possible and can be used based on your end product's needs.  Work closely with your application engineer to define your specifications, and they can help select the best material(s).
Additive options
Porous foam can be manufactured with a variety of additives and treatments that expand the design possibilities of your product. Below are some examples used with our two-step prepolymer process:
Hydrophobic Treatments
Hydrophilic treatments
Colorants
Color change
Bactericidal / bacterial static
Carbon, potable water, odor elimination
Geometric options
Porous foam can be manufactured into a variety of shapes and sizes. When considering how you plan to incorporate the porous foam material into your manufacturing process, consider these options:
Sheets
Rolls
2D plugs
3D simple and complex shapes
Once our team of engineers learns your manufacturing process, we can help you to determine the size, shape, and dimensions you need that best fit your device.
Assembly & converting options
Die cutting
Skiving
Splitting
Lamination (thermal & PSA)
Whether you need bulk or individual packaging, our engineers can help design a porous foam solution specific to your design.
---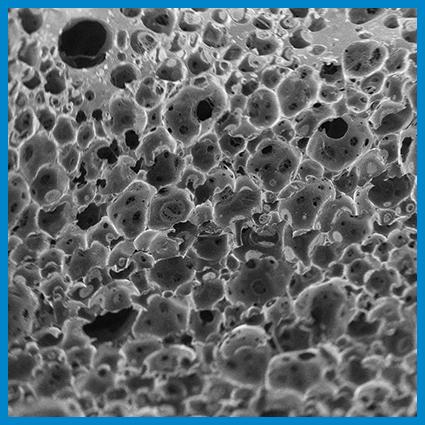 Register for Our On-Demand Webinar
Redefining the Capabilities of Foam with Open-Cell Foam
Common applications for porous foam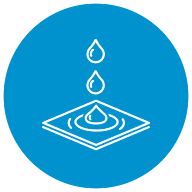 Absorb
Porous foam material can be used in a number of applications requiring absorption such as patient positioning and surgical support as well as PPE face masks and advanced wound care medical-grade foam. Because it is biocompatible, hypoallergenic, and can be customized for softness, it is a good candidate for skin contact.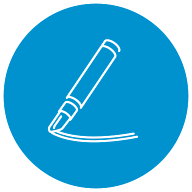 Apply
For topical skin adhesives or cosmetic makeup sponges, porous foam material can allow for the delivery of precise amounts of liquid, creams, or powder-based foundations without irritating the skin. Porous foam can enable reusability and be made from a bio-based polymer for a more sustainable applicator.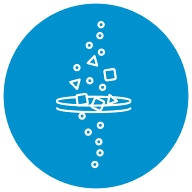 Filter
Filtration properties allow for therapeutic techniques such as using a suction dressing to remove excess exudation while treating acute or chronic wounds or highly sensitive second and third-degree burns. Foam allows the wound edges to be drawn together, reducing the chance of edema and infections. Adding a carbon additive can also help with odor.