Track-Etched Membranes Offer More Precise Control Over Pore Size and Pore Density
Our track-etched membrane technology comes to us from our sister company Oxyphen, a global leader in microporous membrane products with quality manufacturing sites in Wetzikon, Switzerland, and Lottsletten, Germany. Working with Oxyphen, Porex can support our customers across many venting and filtration applications in the life science, automotive, industrial, and consumer markets.
Track-etched membranes (TEM) feature a unique pore structure that offers the smallest pore size and pore density tolerances on the market. Due to their smooth surface, track-etched membranes are a perfect surface filter with reversible (backflush) and self-cleaning functionality for hydrophobic, oleophobic, and hydrophilic applications.
There are two membrane technologies for customers to choose from – Unique-Mem® and RoTrac®. Unique-Mem® track-etched membranes are a single, unlaminated membrane layers that are available as hydrophobic or hydrophilic. Depending on pore density, they can also be transparent or translucent. RoTrac® membranes are laminated Unique-Mem® track-etched membranes that are supported with nonwovens (PP or PET) to create a more robust laminated membrane structure. They, too, are available as either hydrophilic or hydrophobic. All of our track-etched membranes are 100% free of perfluorooctanoic acid (PFOA) and 98% free of PFAS and produced using a 100% controlled two-step process that involves beaming with accelerated noble gas ions and then etching the cylindrical pores along the tracks.
A full spectrum of membrane assembly options is available to our customers, including rollstock, pre-punched discs, self-adhesive pads, pressure compensation units, as well as custom assemblies and modules for specific applications. Register for our On-Demand Webinar
Intro to Track-Etched Membrane Technology
Manufacturing process
Partnering with our sister company Oxyphen, our track-etched membrane technology is created using a two-step process. Using proprietary beaming equipment operated only by Oxyphen employees, we begin by performing heavy ion beaming of the polymer film. This allows for 100% control of the pore density. Each ion creates a laten track, which we then etch cylindrical pores along. This allows for 100% control of the pore sizes. Optional surface treatments and lamination processes are also available which can expand functionality as well as mechanical stability if it is needed for the application.
Options for customizing track-etched membranes
Physical properties
When incorporating a track-etched membrane into your product, it's critical to understand the physical properties impacting the materials and functionality of the part including:
Air flow rate: the volume of air being delivered at a given pressure drop through a specific area. This is a critical measure for designing a venting membrane. One important thing to note – air flow rate will increase through the same vent as the pressure drop increases.
Pore Size: the size of the voids in a porous media. Depending on the technology and material selected, pore sizes can range from 1μm to 10μm.
Pore Density: the degree of compactness of the pores. Depending on the technology and material selected, pore density can range from 0.01M to 1,000M pores per cm2.
Operating temperature: the temperature range at which the part will be required to operate.
Chemical properties
Choosing the right polymer is important to ensure lasting functionality in your device. Below is a chemical compatibility comparison of PET material and sintered particles:
| Chemicals | PET |
| --- | --- |
| Acids (non oxidizing) | Fair |
| Bases | Poor |
| Oil | Good |
| Aromatic solvents | Good |
| Non-polar aliphatic solvent | Good |
| Polar-aprotic solvents | Good |
| Polar-Protic solvents | Good |
| Halogenated solvent | Good |
| Oxidizing agents | Fair |
Specification
Unique-Mem® Track-Etched Membranes
RoTrac® Track-Etched Membranes
Bandwidth (mm)

10, 13, 14.5, 20 & custom sizes

High Quality Raw Materials

PET – naturally slightly hydrophilic

PC – naturally slightly hydrophobic

PET-Membrane/ PET-Nonwoven –harder

PET-Membrane/ PP-Nonwoven – softer

Pore Size Ranges

0.1µm to 10µm

0.2µm to 3.0µm

Pore Density Ranges

105 to 109 pores per cm2

2×106 bis 3×108 pores per cm2

Thickness Ranges

8µm to 50µm

90µm to 220µm

Temperature Ranges

– 40°C and 160°C (for special application < 200°C)

– 40°C and 130°C (for special application < 160°C)

Air Flow Ranges

Up to 800 l / (bar cm2 min)

Up to 37 l / (bar cm2 min)

Hydrophilic Treatments

Various hydrophilic treatments increase water flow rate and wetting abilities of the membrane (example: PVP treatment)

Hydrophobic / Oleophobic Treatment:

Grade up to 7.5; AATCC TM 118

Salt spray resistance test2

According to IEC 60068-2-52, based on validation by the customer

Temperature resistance test1

In accordance with ISO 16750-4

Ice water shock test1&2

In accordance with ISO 16750-4

Climate resistance test

In accordance with ISO 16750-4

Chemical resistance test1

According LV124/ ISO 16750-5

IP Protection1

IP 64/65/66/67/68, according to DIN 40050
1 Testing in Progress
2 Based on Customer Validation
Material Options
PET Track-Etched Membranes unlaminated​​
PET Track-Etched Membranes laminated with PET/ PP non-woven material​
Additional membrane materials available upon request​​
Additive options
Below are some common additives and treatments that expand the potential functionality of your TEM solution when using PET material:
Hydrophobic treatment
Hydrophilic treatment
Bactericidal / bacterial static
Oleophobic treatment
Laminated support structure
For TEM solutions using PC material, hydrophilic treatment is available.
Geometric options
Our track-etched membranes are available in many different geometric options, including:
Rollstock
Pre-punched discs (OxyDisc)
Self-adhesive pads (OxyPad)
Pressure compensation units (OxySeal)
Custom assemblies and modules
Our engineers can work with you to better understand your manufacturing process and determine which size, shape, and dimensions are the best fit for your application. We can even create custom assemblies and modules if needed.
---
Common applications for track-etched membranes
This list of application examples is just a small selection of what is possible.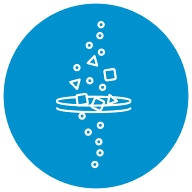 Filter
Our track-etched membranes offer ultra-precise flow control and filtration efficiency. They have been used for many years to support tissue engineering, pharmaceutical research, and IV drug delivery among other filtration applications.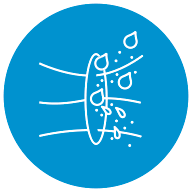 Vent
Whether to relieve pressure, allow for cooling, or protect contents from the external environment, our track-etched membranes and membrane assemblies can help to solve venting challenges in automotive, life science, industrial, and consumer applications.
Related Resources