Coloring Markers with Maximum Ink Utilization & Leak Protection
Porex offers two distinct nib technologies depending on the specific design needs of your coloring marker writing instrument:
POREX® sintered particle nibs are 3D-molded porous plastic nibs with the ideal mix of porosity and capillarity to deliver ink to the writing surface. Safe for children's applications, our sintered PE nibs write with a smooth, durable feel.
POREX® polyester fiber nibs are a combination of polyester fiber and bonding resin, optimized for high ink flow and shaped to your coloring marker's specifications.
Porex XPE® reservoirs are formed from a controlled density of fibers in an extruded seal, allowing you to contain and deliver the maximum amount of ink to your coloring markers. Capillary forces and materials are customized to your specific requirements and to ensure leak protection.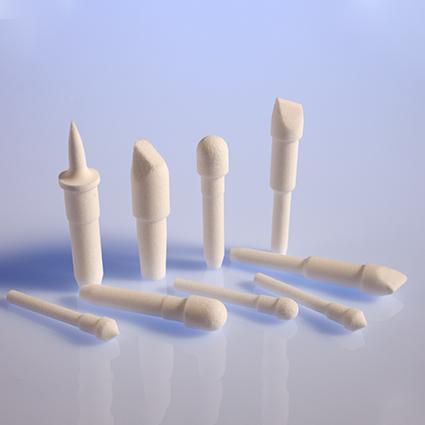 Watch how porous nibs and reservoirs work together to manage ink flow
Options for customizing nibs and reservoirs for coloring markers
Key Features & Benefits
Customizable ink flow, capillarity, fiber types/densities, wrap materials, and sizes/dimensions
Maximum ink utilization
Highest degree of leak protection

 

Won't fray or mushroom out
Sharp, clear lines
Long-lasting
Sintered Particle Nibs
Nib Materials
Polyethylene (PE)
Writing Applications
Highlighters
Coloring pens
Stampers
Whiteboard markers
Compatible Inks
Water-based
Solvent-based
Customizable Options
Write-feel
Ink flow
Size and dimensions
Polyester Fiber Nibs (PET)
Nib Materials
Polyester fibers (PET)
Writing Applications
Permanent markers
Coloring pens
Whiteboard markers
Highlighters
Compatible Inks
Water-based
Solvent-based
Metallics
Customizable Options
Ink flow
Capillarity
Size and dimensions
XPE® Reservoirs
Core Materials
Polyester
Polypropylene
Exterior Materials
Extruded polypropylene
Extruded nylon
Extruded polyester
Film and nonwoven
Applications
Coloring pens
White board markers
Highlighters
Permanent markers and more
Inks
Water-based
Solvent-based
Metallics
High pH
Customizable Options
Performance features
Fiber types
Fiber densities
Wrap materials
Sizes and dimensions

Register for our On-Demand Webinar
Using Porous Plastics for Applying
Related Resources