Diffusion Solutions
Custom porous solutions that enable a liquid, gas or light to spread more widely.
Diffusion Solutions
Custom porous solutions that enable a liquid, gas or light to spread more widely.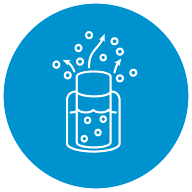 What is the function of diffusion?
Diffusion is the process by which something gets distributed into a broader environment such as when a fragrance release product allows for a scent to be diffused into the air in a room. It is also an important function in dissipating a waste product or even spreading something used in manufacturing. Porex has a long history of designing and manufacturing porous plastic and porous fiber solutions utilized in a variety of sparging and diffusion applications in both industrial and consumer markets and bioscience. Utilizing our material science and design expertise, POREX® products are designed so that the diffusion media – which are comprised of omni-directional matrices – yield a consistent, evenly distributed vapor release. Our diffusion and sparging products are custom engineered for manufacturers to meet specific end-use performance requirements with the industry standard in performance, durability, and design flexibility.
Banner Webinar Inpage
REGISTER FOR OUR
ON-DEMAND
WEBINAR:
Using Porous Plastics for Diffusion
---
Problems that porous diffusion media can solve:
Getting consistent release of an air freshener scent or insecticide into a room
Delivering an even spread of oxygen or other process gas into a system
Ensuring an even dispersion of light onto a surface or into a focus area
Getting a liquid, gas or particles moved into a uniform distribution to aid in a process
If you are interested in learning more about how to select the right material for your diffusion challenge, please visit our Enhancing Diffusion Capabilities to Maximize Consistency and Performance free webinar. Register here.
---
Talk to a porous diffusion media expert
---
Common applications for porous diffusion media
Bioprocessing spargers
POREX® bioprocessing spargers are designed to deliver consistent gas flow and distribution into cell culture systems, and are USP Class VI, Gamma sterilization and TSE/BSE compliant.
---
Diffusion tubes for semiconductor processing
POREX® high-purity diffusion tubes allow semiconductor processing facilities a precise way to diffuse, filter and distribute process gases

---
Reed diffuser wicks for home fragrance delivery
Compared to natural reeds, POREX "no-flip" reed diffuser wicks offer consistent performance from reed to reed. Manufactured to stringent quality specifications, our reed diffuser wicks out-perform other options on the market with more consistent diffusion.
---
Plug-in insecticide and home fragrance wicks
Plug-in air fresheners are designed to deliver fragrances quickly. For more intense and consistent fragrance release, Porex developed porous fiber and sintered particle wicks.

---
Fluidizing sheets for industrial powder-coating systems
POREX® fluidizing sheets help provide a uniform and even diffusion and distribution of air supply streams in powder-coating systems in which powder should flow like water. With our special molding process, fluidizing sheets are developed with consistent pore sizes and airflow characteristics.

---
3D printer diffusers and wicks
Porex creates a wide variety of standard and custom solutions including diffusers, air & liquid filters, wicks, and absorptive media to meet your 3D printing needs. Specifically designed for 3D printers, our diffusers can meet virtually any challenging application need.