Explore the World of Porous Polymers
Join our interactive seminars to explore the world of porous polymers. Learn from experts in the field and discover the latest advancements in porous polymer technologies through demonstrations and informative discussions. Topics include sintered porous plastics technology, filtration media technology, functionalized media using additives, PTFE membrane technology, wicking for fluid management, and track-etched membrane technology.
---
Next Session – June 15, 2023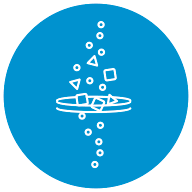 Filtration and Beyond
Filtration media is a crucial component in many industries, playing a key role in protecting critical components, reducing contamination, and ensuring device functionality. Porous plastic structures offer surface and depth filtration functionality and can be optimized to match the gas or fluid filtration and separation requirements of your specific device.
In this virtual event, you'll have the opportunity to interact with experts in the field and learn about the latest advancements in filtration media technology through hands-on demonstrations and insightful discussions. Discover how additives can be incorporated into the porous matrix to enhance functionality and how surface modification can be used to improve filtration efficiency.
We will discuss the various applications of filtration media, including critical laboratory pipette operations and gas sensors that perform in extreme and dangerous conditions, and gain a deep understanding of the importance of filtration media and how it can be optimized for your unique needs.
---
Upcoming Sessions
---
Watch Feed Your Mind On-Demand
Sintered Porous Plastics Technology
We'll explore the exciting possibilities of sintered particle technology with live demos and engaging discussions. You'll discover how market leaders in the life sciences, consumer, industrial, and electronics sectors rely on this type of porous polymer technology to increase performance in their products.