Porex TruFlowTM conjugate pads consistently and efficiently absorb and release for more accurate downstream detection
The conjugate pads in lateral flow assays (LFA) absorb functionalized conjugate and release it efficiently and reproducibly when the assay is run. Therefore, consistent uptake and release rate of the conjugate, as well as diminished non-specific binding, are key requirements. One of the most important influences from the conjugate pad material is its play in developing a consistent control and test line in every single test. We offer a synthetic polyolefin fiber that consistently and efficiently absorbs and releases conjugate to allow for accurate downstream detection. Porex TruFlowTM conjugate pads have demonstrated complete release for varying types of labels, including gold or latex.
The robustness of the material ensures an easy adaption for reel-to-reel applications, as well as soaking and spraying processing steps. Porex TruFlow conjugate pads do not include any glass fiber or cellulose, which ensures increased strength and durability for manufacturing.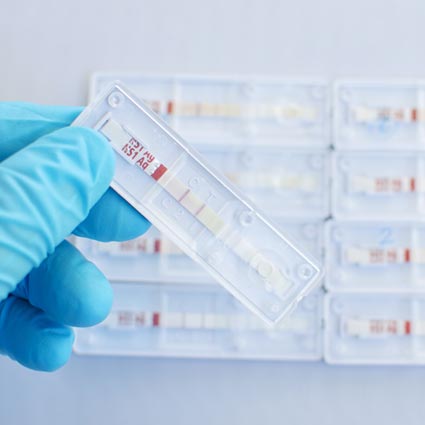 Porex TruFlow™
See the latest on how Porex is advancing diagnostics with superior consistency and ease of manufacturing.
Options for customizing conjugate pads for lateral flow assays
Key Features & Benefits
Optimize reproducibility of your assay with improved material consistency
Reduce cost during manufacturing with robust material
Complete release of conjugate generating strong test and control line signal
Custom pretreatments including buffering and stabilizing agents available for ease of manufacturing
Can be designed to integrate sample collection pad or conjugate pad into one item
Product Options
ID
Thickness
(mm)
Density
(g/cc)
Basis Weight
(g/m2)
Capillary Rise
(Seconds/4cm)
Absorbance
(mg/cm2)
Composition
C110
1
0.07
72.77
3
74.35
Polyolefin
C025
0.6
0.23
132.33
4
36.39
Polyolefin
C125
1
0.26
258.87
3
61.40
Polyolefin
Geometric Options
Sheets
Rolls – custom widths available
Additive Options
Custom pretreatments available, including buffering and surfactant

Download our Tech Brief
When Results Matter: Increase Pregnancy Test Accuracy with Porous Wicking Technology
Related Resources